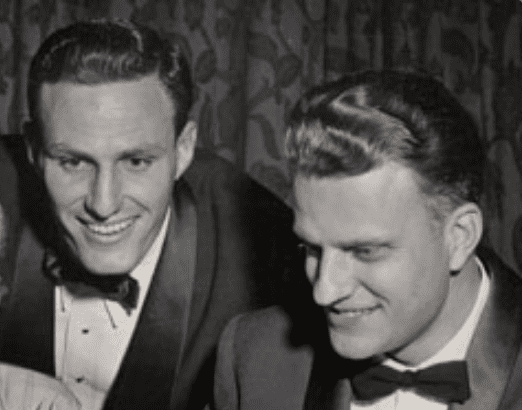 How does the world-renowned evangelist who toured with Billy Graham end up becoming an atheist? That's what we're going to look at in this article, and the reason we're looking at that is because it would do us good to look into our lives and see if we are persevering in our faith.
Because Jesus says, "He who endures till the end shall be saved." (Matthew 24:13:) And these are the pitfalls that we can see from this person and we don't want to repeat these mistakes.
His name is Charles Templeton. After being saved, he started preaching the gospel and later actually toured with Billy Graham. He was famous. He preached to thousands of people. But what happened??
How does someone go from the powerful preaching the word of God to writing a book later that says "Farewell to God: My reasons for rejecting the Christian faith"
Even though this book was written in 1999 and he has passed away a couple of years later, there are still many things for us to learn because we want to keep our faith steadfast until the end.
The Interview
Lee Strobel, who wrote the famous "The Case for Christ", was able to interview Charles Templeton a couple of years before his death. He was tending to his 80's and I'm going to share a few excerpts of what this interview was.
Strobel asked Templeton, "How do you assess this Jesus?" At that time, he has already written his book. He has already proclaimed himself to be an atheist and we will think, "Hey, he's probably going to talk bad about Jesus."
Strobel says,
"I wasn't ready for the response that it would evoke." "Templeton's body language softened. It was as if he suddenly felt relaxed and comfortable in talking about an old and dear friend."
Templeton answered,
"He was the greatest human being who has ever lived. He was a moral genius. His ethical sense was unique. He was the intrinsically wisest person that I've ever encountered in my life, or in my readings."
And this is coming from an atheist who previously knew Jesus.
Templeton says that,
"Jesus' commitment was total and led to his own death, much to the detriment of the world."

"What can one say about him except that this was a form of greatness?"
Strobel was taken aback. "You sound like you really care about Him (Jesus)" And here's the sad part, Templeton said,
"Well, yes, He is the most important thing in my life. I know it may sound strange, but I have to say I adore Him!"

"Everything good I know, everything decent I know, everything pure I know, I learned from Jesus. Yes."

"In my view, He's the most important human being who has ever existed."

"And if I may put it this way (as Templeton's voice began to crack) I miss him"
He said that with tears flooding his eyes. He turned his head and looked downward, raising his left hand to shield his face from Strobel. His shoulders bobbed as he wept.
When you hear this, doesn't your heart break? How does the person who adores, and misses Jesus calls himself an atheist and misses the path to go to heaven, the one whom he adores and that he's not going to go there with Him.
Don't Let Temptations Depart You From Your Faith
This is the warning in Hebrews 6:4 it says,
"For it is impossible for those who were once enlightened, and having tasted the heavenly gift, and have become partakers of the Holy Spirit and have tasted the good word of God and the powers of the age to come. If they fall away, to renew them again to repentance, since they crucify again for themselves the Son of God, and put Him to an open shame."
God loves us so much that he gives us time on this earth to repent and trust in Him. But there can be a time when your heart is so hardened, it is so seared, that your heart can no longer truly repent and go back to the path of eternal life anymore.
And this is my belief why Templeton when said, even though he misses and adores that Jesus that he used to preach, but he was still left with the predicament that he's no longer a believer and that he is a self-proclaimed atheist.
Isn't that so tragic?
This is exactly what the Holy Spirit has said in 1 Timothy 4:1
"In the last days, people will depart from their faith, giving heed to deceiving spirits and doctrines of demons."
They're not going to endure! Are you and I going to endure in our faith? Our faith is to be worked out with fear and trembling. The bible warns us in so many places that we have to endure until the very end.
Because in this world, we all know there's temptation, there's distraction. The things that are trying to draw us away, and not to forget, there is a real demon, real satan, and they're trying to come against you and to divert you from the call of God in your life.
That is why we have to be diligent. That's why we have to be watchful and pray and seek God every day of our lives.
If you're relying on your pastor to tell you about something on Sunday, let me tell you, you have already lost the battle! Can you imagine if you talk to your wife or your husband only one hour a week, or two times a week on Wednesday per meeting and on Sunday, what's going to happen to your marriage?
And so why is this a surprise that today we see so many people falling away from the faith?
Follow God Until the End
Lord, forgive us. We ask for Your mercy. Holy Spirit, fill is from within. Baptize us with your fire once again that our faith will not be lip service to You, that we want to carry Your revival fire, that we want to live our lives in obedience by faith. So that when we see you, Jesus, You will find faith in us, because of Your grace and because of Your mercy, God.
That is why it is so dangerous to believe that once you are "saved", that you will always be saved and there's nothing you can do to lose it. God is faithful. He's promised to never leave us. But you can't walk away just like Charles Templeton here and many other preachers and well-known Christian figures that you and I probably know.
May it be our prayer that God will follow you steadfastly until the end. And the only way we can do that is we give God our daily devotion and commitment to Him, not out of some religious duty, but because God, we want to enter Your kingdom because that's what You said.
"Strive to enter through the narrow gate because narrow is the gate and difficult is the way which leads to life and there are only a few who find it." (Matthew 7:14)
If this is what you want to do then follow God until the very end.
Share this with anyone who needs to read this because the coming of the day of the Lord is at hand!
God bless you!